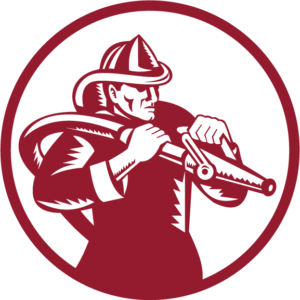 Get the Badge!
At eatstress.com, we get it. For as long as you can remember, you have wanted to be a firefighter. You hear a siren, and you stand up a little taller. You have the burning desire to help others and be one of the greatest of American heroes. You are driven by this. And, we are too.
Our eatstress.com program is designed to prepare firefighter candidates for the firefighter testing process. Given that the process is different than any other hiring process, you will need to prepare. You cannot do this on your own. You will benefit from the insider secrets learned from our eatstress.com program and our 40 + years of experience in Fire Service. Isn't that what you want? I mean, seriously – why reinvent the wheel? Isn't it time to earn your badge?

EatStress also offers Private Coaching – For more information CLICK HERE

Got questions??  Don't hesitate to call Capt. Bob for answers (888) 238-3959 
Immediate Digital Download Available!
Our Guarantee: If you are not completely satisfied, we will refund 100% of product cost – no questions asked!

Instant Download  If you order the immediate download version there is no shipping or waiting. You will be reading and listening to the program in minutes even if it's 5am, weekends or holidays! Anytime, anywhere.

Promotional Testing  If this is your first promotional test, you're tired of being passed over, the list has expired again after all the acting time you put in without getting the badge for the second, third time or more, you don't want to be embarrassed again, then you've come to the right place.
"Private coaching can make the difference between being 40th (or worse) on the list, and being in
the top 10 going to the chief's oral to nail a badge! "     LEARN MORE